Black River, Arizona May 2008
A report of a fishing trip to the Black River in May, 2008. Three friends, a hummer, lots of food and promises of a remote fishing adventure made for an excellent week.
The Drive
First we headed to the Black River, a very remote, very beautiful piece of land on the San Carlos Apache Indian Reservation about 5 hr drive from Phoenix. To fish it you need a permit from the Apache tribe, a 4WD vehicle and some stamina to climb up and down the cliff to the river. We went to a particular remote area but I understand that you can also find easier access to the river, however that comes with more crowded conditions. Our site was postioned on the valley edge with the river 300-400 feet below. The drive in is kind of fun, you go from nicely paved highways to pot hole roads and finally a track in the wilderness which could be called a road but is more accurately described as dirt and rocks you can drive on.
The Camp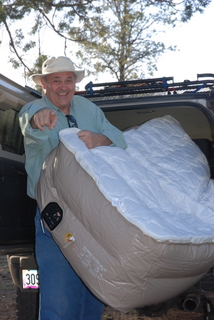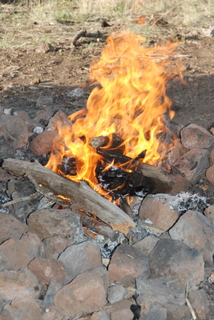 The truck with extreme roof rack made for some serious capacity. We had tables, chairs, stove, coolers all set up in minutes. Once camp was set up we made a fire and began the consumption of meats, beers and more beers. Randy let us relax while he inflated our surprises. Yes, we had all the the comforts of home included some serious bedding for "better than home" sleeping softness. We could have gone whitewater rafting in these things (except Jon) who somehow managed to pierce his in such a way that it leaked to empty by morning. Weather was wonderful. Nights are cool (+2C (36F)) but it gets warm fast and rises up to around 27C/80F. Sweet weather. It was cool enough at night for a fire. The contrast in starting a fire in Arizona compared to Algonquin Park after a rain is something else. In Arizona, you basically pile up some wood, lean in closely and whisper "fire" and it starts to burn. It's really that simple folks...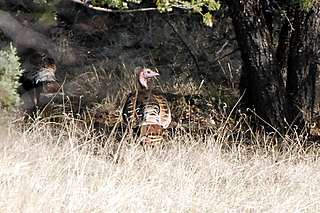 At night, we were entertained by gobblers and we also heard coyotes and an elk which bellowed really loudly near enough to the camp that it scared the heck out of me.

The hike down the cliff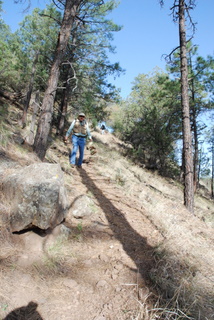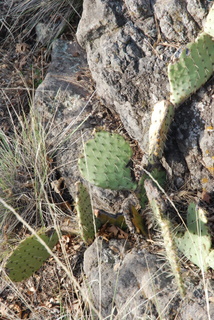 It's the kind of fishery where you need to wander around and wade for fish so that was our secret plan but before you can do that you need to get to the water. This involves following a rough trail 300-400 feet down the cliff. The rocks are loose in places which resulted in one unnamed member of our party to fall on his butt. This is hard work even when it's all downhill. The climb up is much worse. The best part is stopping "for pictures" of all the strange plants you see on the way down. Arizona has cactus, so I stopped for many cactus pics and scenic views. It had nothing to do with being tired, out of breath, lazy or anything like that.
The Fishing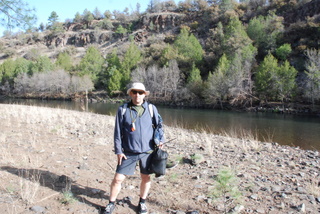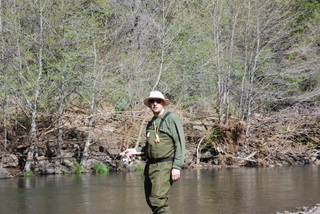 Once you're on the valley floor, you need to dress up in your best orvis gear and look the part. The fish can tell if you have cheap waders and a bad attitude so it's best to just wear the right stuff.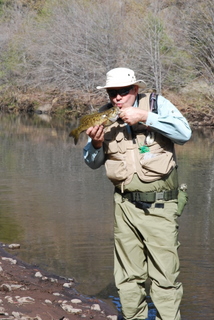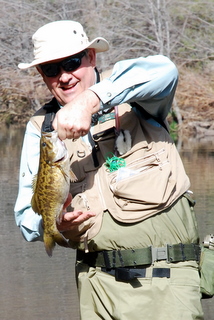 Some quick success was demonstrated by Randy, and he also demonstrated some of the only kisses I'd be getting on this trip. Apparently it's a catch, kiss and release fishery and the hope is the fish go back and tell their friends how wonderful the parting kiss was to encourage them to bite. I think it's something he learned from Jimmy Houston.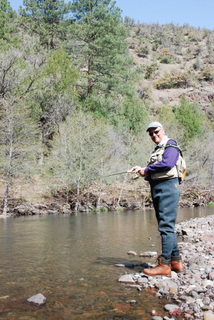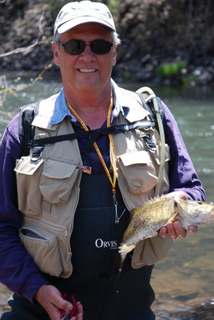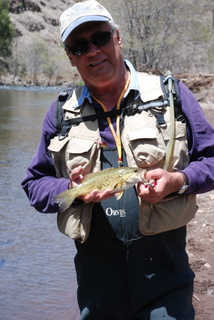 Then it was all fishing, fishing fishing and Jon makes it all look easy and he makes it look good too.


The fishing was slow at times but there was action to be had. After we hiked downstream to more remote areas, we hit some nice smallmouth spots and the fishing picked up. The water was cold too, so I think that by afternoon when the air temp reached the low 80s, the fish activity was higher.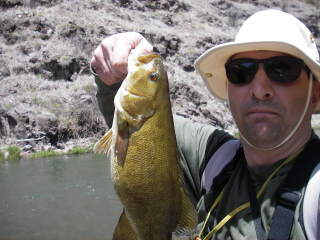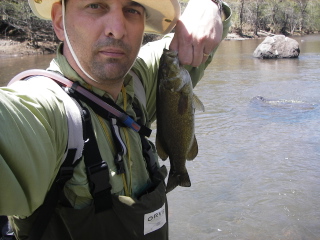 There were many self portraits on this trip. Your buddies are too busy and too far away to make for nice pics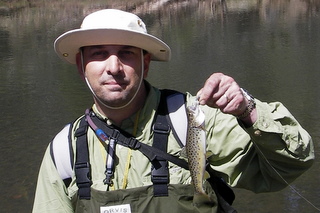 The surprise of the trip was this bonus brown trout. We had been fishing for smallmouth and we had heard there were trout in the river but we assumed they were much further upstream where the water would be even colder. Once we had caught one however we tried for more and had lots of hits from many smaller trout. They seem to have trouble getting hooked and I suspect we'd have more luck with a fly rod. The water is fairly thin where these trout hang out and the inline spinners were too big to bite for these little guys.

Scenery
The trip is not complete without the scenery. Just walking downstream and looking around was cool. The river is wild, no people, no garbage and nestled deep in a valley out of the way and you feel good just being there.


Next report - Grand Canyon and Trout.
---