Algonquin Park May, 2006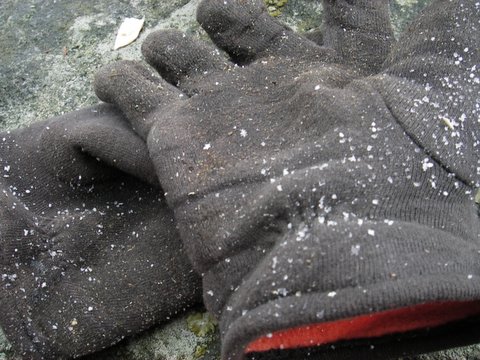 We went back to the park for a second weekend of brook trout fishing. See last weeks trip report for our adventures bush whacking for brook trout. Our pals from last week told us about their trip so we updated our plans. We went to a different lake and got different weather, but lots of fun. This week was colder than the week before. We had snow, sleet, ice pellets, and wind on the first day before the weather changed and it warmed up later in the afternoon. The Sunday was still cloudy but warmer so it was still comfortable. The first pic is the lake under a snow seige... hard to see the snow but it was windy and the snow pellets stung when they hit your face. The gloves were a necessity.
We decided to go out in the morning but canoeing in snow and wind is not much fun so we took naps in the afternoon waiting for the weather to improve. It did, sunny and warmer in the afternoon so out we went. We saw some brookies rising and caught a couple right away. Then we went exploring. Here are some of the smaller brookies we caught. Biggest was of the weekend was around 14 but you'll need to trust the fishermen on that as there are no pictures of that one.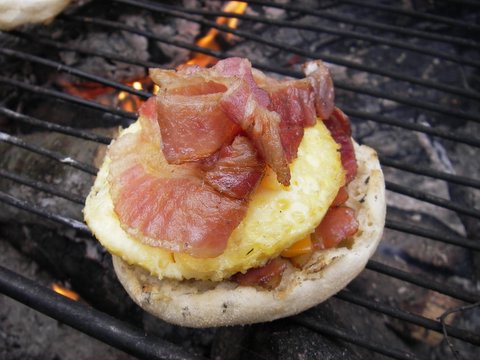 The bacon delivery system was improved upon. Using only tinfoil, butter and eggs, we reproduced the Bacon and Egg English Muffin, Algonquin style. Our innovation was driven by remote wilderness self sufficiency and the result was delicious despite a lack of a huge research budget. If any large McCorporation wants to license our version of the sandwich, the price would be reasonable.
We also went to a second lake during the break in the weather. Couple of hours of sun, sitting in a canoe, warm, sunny, it was beautiful...
and the best part is is the scenery...
Finally, I have a message for the brookies.
"You like wood, wood is good... here is some wood, you should live here" . It would save us all sorts of time canoeing around the lake looking for ya, if you would just stick to the wood that would be grand!
---
More Pictures Here
---